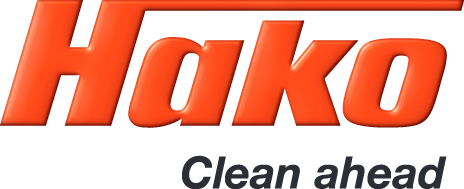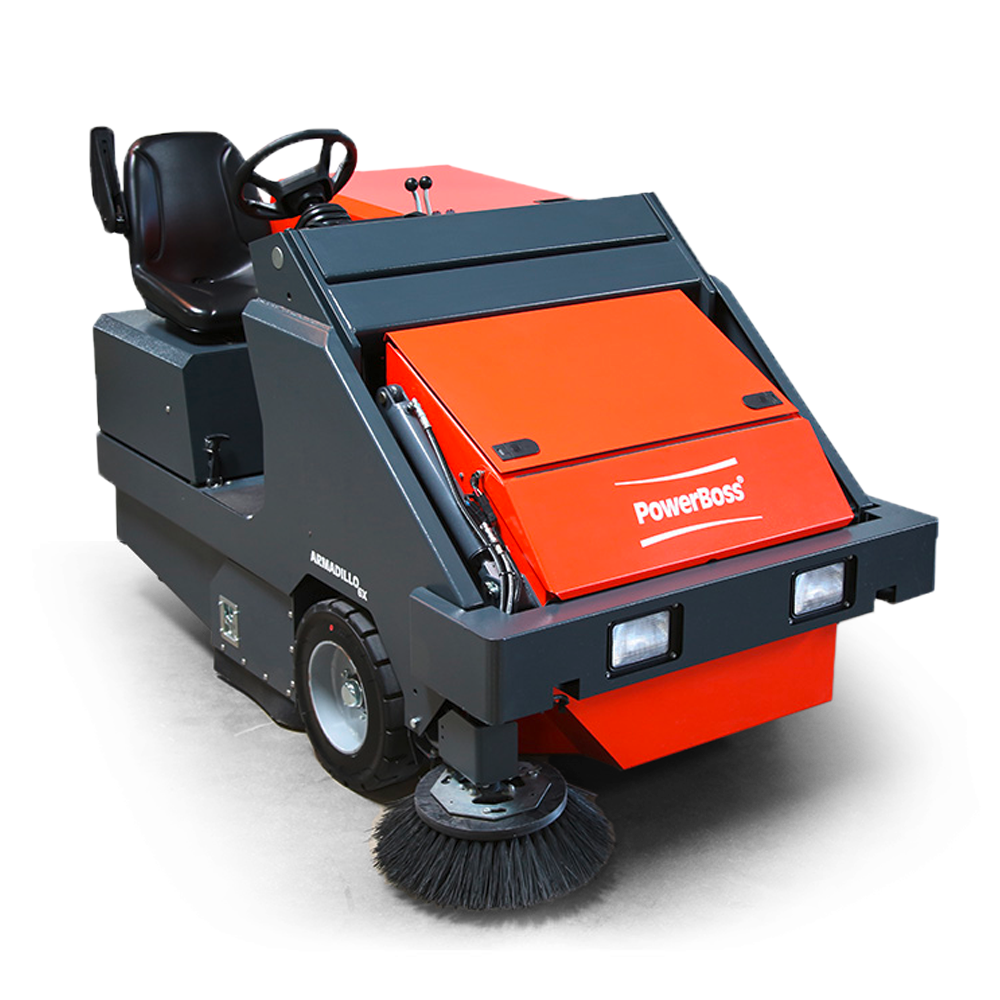 156 or 193 cm working width
Sweeping performance: up to 25,000 m²/h
Sweeping system with fully hydraulic drive
PowerBoss Armadillo 9XR
Vacuum sweeper for large to very large areas
156 or 193 cm working width
Sweeping performance: up to 25,000 m²/h
Sweeping system with fully hydraulic drive

PowerBoss Armadillo 9XR is our high-performance vacuum sweeper for heavy-duty applications. This machine is fully hydraulic and provides a cleaning performance of up to 25,000 m²/h. It can be equipped with up to two side brooms to achieve a working width of 193 cm. Working on inclines of up to 16 % is no problem at all for this sweeper. PowerBoss Armadillo is a highly efficient machine that provides maximum working comfort and is a showpiece of excellent workmanship.
Dual-speed sweeping system

Spark-arresting silencer

Water-cooled diesel or LPG engine

Wet-sweep bypass

Powerful filter shaker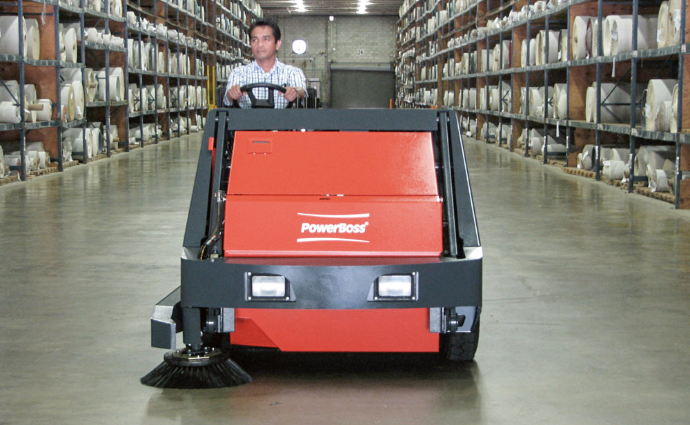 Professional sweeping results – for challenging applications
PowerBoss Armadillo reliably deals with even extra-large amounts of dirt and particularly demanding working environments. When equipped with two side brooms, the machine's working width is 193 cm. This sweeper collects dirt and debris and moves it into the 600-litre-capacity (which equates to approx. 500 kg) dirt hopper made of robust sheet steel. The 162-cm high dump system enables easy emptying.
Efficient and economical in- and outdoor applications
The vacuum sweeper PowerBoss Armadillo is your perfect choice when it comes to professional cleaning results on large areas. This machine is tailor-made for application areas such as:
Modern production lines
Metal processing industry
Iron foundries
Breweries
Beverage industry
Large warehouses
Waste industry
Concrete and cement factories
Shopping and leisure centres
Car parks
Large dirt hopper capacity – unique system
PowerBoss Armadillo combines its particularly large, 600-litre-capacity dirt hopper with our unique Rotary-Trash-Relocator system (RTR system), which provides both extremely long running times per operation and superior economic efficiency. The RTR system briefly rotates the hopper forward, which can increase the filling capacity by up to 50%, depending on the type of dirt and debris.
Four-stage dust filter system:
Stage 1: Suction system with a collection tray at the main broom
Stage 2: Pre-filter eliminates dust before it reaches the panel filter
Stage 3: Efficient synthetic panel filter
Stage 4: Powerful filter-cleaning motor
Robust and easy-to-change retractable side broom.
Extra-large, multi-level dirt hopper with high dump and RTR system.
Powerful filter shaker.
Hydraulic front brakes. Additional standard equipment: a mechanical parking brake.
Liquid-cooled industrial engine (diesel or LPG).
Spark-arresting silencer.
Easy-to-change sweeping unit.
Special features
Designed with much attention to detail
Technical data
PowerBoss Armadillo 9XR at a glance
Power Boss

Armadillo 9XR LPG

Armadillo 9XR D

Working width with 1 side brush (2 SB)

cm

156 (193)

156 (193)

Theoretical area performance with 1 SB, main sweeping cylinder

m²/h

20300

20300

Working speed

km/h

13

13

Dirt hopper capacity

l

600

600

Total output

kW

41

26.5

Length

cm

279

279

Width

cm

152.4

152.4

Height above the seat(operating handle)

cm

147/220

147/220

Weight, ready to use (incl. battery)

kg

1710

1710
Show PDF