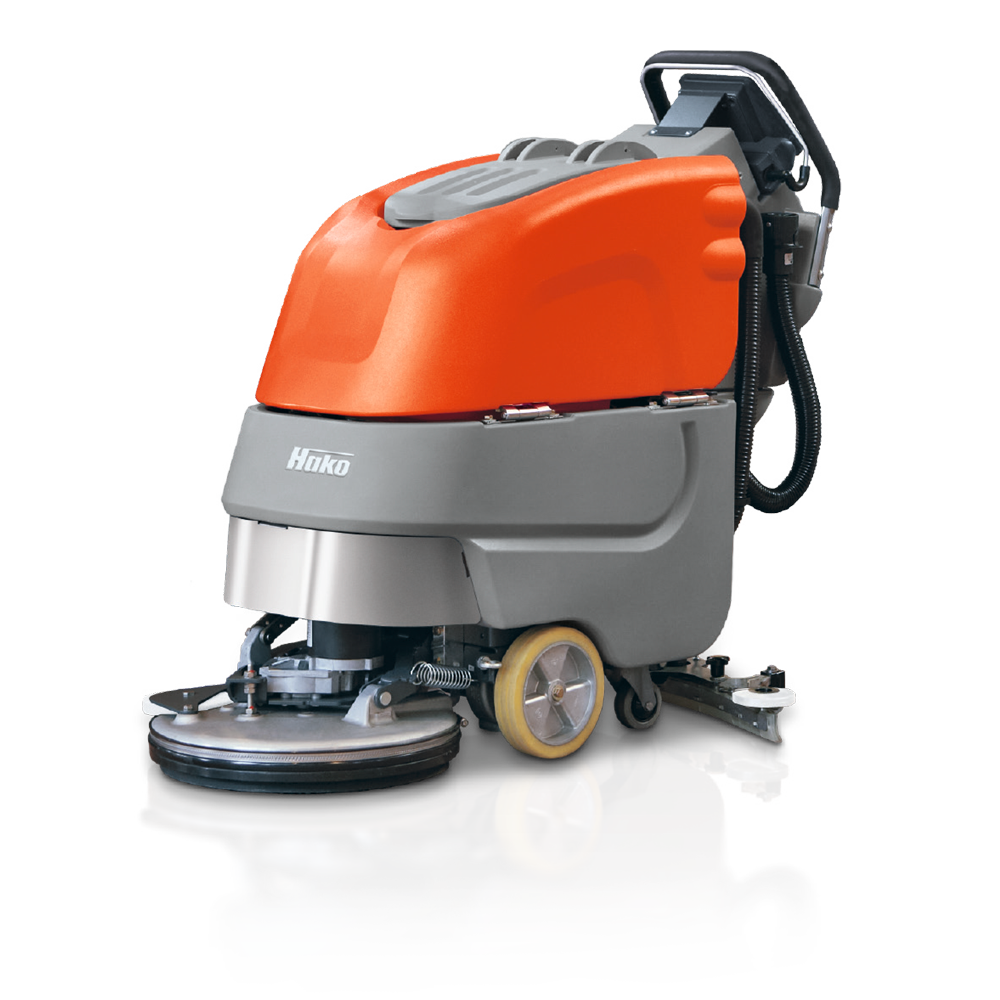 43, 50, 51 or 65 cm working width
Cleaning performance: up to 2,900 m²/h
Scrubmaster B45
Compact walk-behind scrubber-drier for small to medium-sized areas
43, 50, 51 or 65 cm working width
Cleaning performance: up to 2,900 m²/h

The compact walk-behind scrubber-drier Scrubmaster B45 is ideal for efficiently scrubbing & drying small to medium-sized areas, for example retail stores, administration buildings, hotels and restaurants or workshops. With its high cleaning performance of up to 2,900 m²/h, this machine provides excellent results and impeccably clean floors – at low operating costs.
Robust steel frame and a solid aluminium housing

Easy handling

Hako-AntiBac® available as an option, or as a standard with B45 CLH
Highly variable – suited for every application
With four brush units providing different working widths, as well as different battery systems and a wide range of additional features available, the Scrubmaster B45 offers the right solution for every application, even for working in hygiene-sensitive areas: Our model version Scrubmaster B45 CLH is equipped with Hako-AntiBac® for improved hygiene, reduced odour development, and reduced costs due to a lower consumption of disinfectants. Also available: Our Silent Mode feature providing extremely low-noise working – ideal for use in hospitals and nursing homes.
Cleaning with maximum economic efficiency
The Scrubmaster B45 focusses on maximum efficiency. The heavy-duty design – the machine is equipped with a brush unit and squeegees made of die-cast aluminium – makes this Scrubmaster particularly reliable while minimising repair costs and downtimes. Intuitive operation and superior ergonomics increase the user's productivity. And optional extras reduce the consumption of water and cleaning detergents.
Ensures even more economically efficient working: the maintenance-friendly design
The design of the Scrubmaster B45 is particularly maintenance-friendly. Maintenance costs can be significantly reduced, which is yet another important factor when it comes to increasing economically efficient operation.
Daily maintenance made easy: Thanks to colour-marked maintenance points and direct, tool-free access – for example to the solution filter.
Large tank opening
Easy-to-read filling level indicator
Easy-to-dose drain valves (recovery tank)
Error diagnosis shown in the display
Scrubbing & drying with the Scrubmaster B45: Additional benefits
Optimal traction thanks to non-slip and non-marking tyres
Particularly low-noise operation: The silent button reduces the speed of the suction engine (with CL/CLH only)
Excellent manoeuvrability due to the machine's compact design that has been optimised to provide superior "driving-away-from-walls" properties
Special features
Designed with much attention to detail
Technical data
Scrubmaster B45 at a glance
Scrubmaster

B45 TB430

B45 TB510

B45 CL TB430

B45 CL TB510

B45 CL TB650

B45 CLH TB510

B45 CL WB500

B45 CL DTC TB510

Working width scrubbing

cm

43

51

43

51

65

51

50

51

Theoretical area performance

m²/h

1700

2000

1900

2300

2900

2300

2200

2300

Working speed

km/h

4

4

4.5

4.5

4.5

4.5

4.5

4.5

Brush system

disc

disc

disc

disc

disc

disc

cylindr.

disc

Solution tank capacity

l

42

42

42

42

42

42

42

42

Recovery tank capacity

l

42

42

42

42

42

42

42

42

Nominal voltage

V

24

24

24

24

24

24

24

24

Total output

kW

1.13

1.13

1.31

1.31

1.31

1.31

1.31

1.31

Battery capacity, max.

Ah

105

105

105

105

105

105

105

75

Length with squeegee

cm

126.5

134.5

126.5

134.5

136.5

134.5

123.5

134.5

Width with/without squeegee

cm

50/76

56/86

50/76

56/86

67/95

56/86

60/86

56/86

Height above the seat (operating handle)

cm

111.6

111.6

111.6

111.6

111.6

111.6

111.6

111.6

Weight, filled, incl. Battery

kg

221

223

228

230

240

230

230

204
Show PDF